Mayor of Pembroke charged with historical rape of child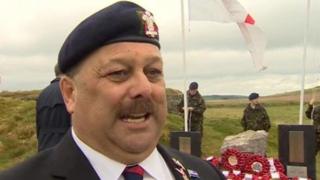 The mayor of Pembroke has been charged with historical sex crimes.
David Boswell, 56, faces six counts of indecent assault and one charge of rape between 1991 and 1994 with the charges relating to two alleged victims who were under the age of 13 at the time.
Mr Boswell was elected as a Conservative county councillor for Pembroke St Mary North in May.
Dyfed-Powys Police confirmed he had been summonsed to appear in court on 13 September.
Mr Boswell served in the Army for more than 12 years and is a marshal for the Royal British Legion.
A Pembrokeshire council spokesman said the council "continues to keep under review all necessary safeguarding measures pending the outcome of any prosecution".
He added it was a police and Crown Prosecution Service matter and would make no further comment at this time.
Pembrokeshire council's Conservative group said Mr Boswell has been suspended from membership of the party.