More Tenby Tudor Merchant House wall paintings found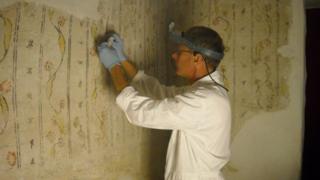 Conservationists preserving centuries-old wall paintings at a historical Pembrokeshire house have discovered more artwork.
The hand-painted floral artwork at the National Trust-run Tudor Merchant House in Tenby is thought to date between the late 18th and early 19th Century.
It was only visible on one wall but painstaking work has revealed it extends to other parts of the room.
Further restoration work will take place in the autumn.
Initial work carried out in May helped stabilise the north wall in the main entrance room, safeguarding the artwork.
This included stabilising the puff pastry-like plaster layers with injections of lime slurry and removing the damaging cement, gypsum and resin layers that had been placed on top.
While doing so, conservator Peter Martindale and his assistant examined other walls and found the design also existed under modern-day plaster on other walls.
As a result, further work will start in October to peel back the layers to uncover the design beneath.
The house will remain open while the work takes place so visitors can see the team at work and learn more about the paintings.
The trust said the three-colour pattern had been painted freehand on to the north wall of the 15th Century house's entrance hall.
Pigment analysis of the paint has indicated high-quality materials were used to create the design and the National Trust said it was likely painted to promote the wealth of the owners of the time.
But the artist behind the work remains a mystery and the charity had appealed for other Tenby townhouse owners to check for similar designs in their property.
Some people did come forward indentifying stencilled and block printed designs in the area, but nothing like the freehand painted decoration, so the search continues.