Pantteg Ystalyfera buildings to be demolished 'for safety'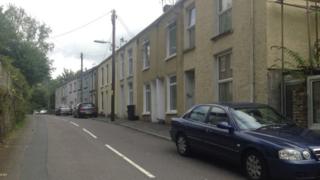 Demolition notices have been served to 11 empty and dilapidated properties in Neath Port Talbot.
The council said the move in Ystalyfera was not directly due to a landslip risk, which could cost the authority millions.
But it did come as part of landslip monitoring activity targeted in the Pantteg area "because of the imminent danger to life".
Orders come into effect in 28 days and occupiers have a further 28 to vacate.
Owners then have 42 days to demolish the property.
The council said the owners of any properties which are not detached would have to "make good" any adjoining walls following demolition.
It added there was currently no intention to require the demolition of nine of the 10 houses on Cyfyng Road, where prohibition notices have been served.
The 10th house within the terrace is one of those identified as being in a dilapidated state.