'Monster' tuna hauled by Neyland boat is 'catch of lifetime'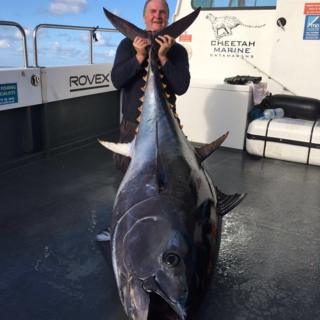 A huge bluefin tuna weighing about 500lb has been caught in Welsh waters off Pembrokeshire.
Andrew Alsop, 49, spent two hours and 15 minutes to bring the 226kg "monster" in after it was accidently caught during a fishing trip from Neyland.
Mr Alsop described it as the "fish of a lifetime".
He returned the 7ft 7in (2.3m) tuna, which is an endangered species, to the water afterwards.
In a Facebook post, Mr Alsop, from Rhoose in Vale of Glamorgan, wrote: "Well what a day!!
"I caught a fish of a lifetime today after a 2hr 15min pain locker battle on my own...
"This bluefin tuna is now the biggest fish ever landed from Welsh waters."
"I'm hurting now," he added.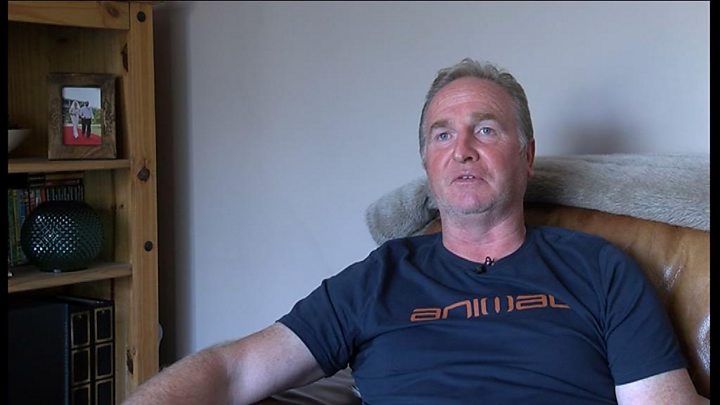 Speaking after the catch, Mr Alsop said that he was out shark fishing with five others and did not intend to catch any bluefin tuna.
"Out of the blue, one of the closest [fishing] lines went off like a rocket," he said.
"After two hours we finally got a glimpse of the fish and realised it was a giant tuna. We couldn't believe it.
"The boys were pouring water on me to cool me down, it was hard work.
"It's one of the hardest fighting fish in the sea. We were just praying the rod did not break."
Bluefin tuna are named on the International Union for Conservation of Nature Red List of threatened species.
The UK government's Marine Management Organisation advises it should not be targeted and if caught accidentally, must be returned to the sea, alive and unharmed to the greatest extent possible.