Dolls' house collection given to Pembrokeshire museum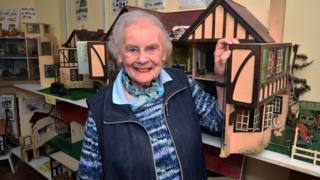 A treasured toy collection of dolls' houses dating back over 170 years has been bequeathed to a Pembrokeshire museum.
It belongs to 93-year-old Val Ripley from Newport, who was inspired by the discovery of her childhood doll house which had been put in storage before World War Two.
She has built up a collection of dolls' houses of every period from 1840.
"They represent a complete social history," said Ms Ripley.
Her love of dolls' houses began in 1932 when she received The Gables doll house for Christmas.
"I'd been eyeing up a wonderful one in the Harrods catalogue, but it was rather big and I didn't think I'd get it," said Ms Ripley.
"I couldn't believe it on Christmas morning when I saw this huge present waiting for me to open."
She played with the house constantly and saved up her pocket money to furnish it with miniature items.
But with the onset of World War Two, the house was put into storage and forgotten about.
It was only after Ms Ripley's mother died in 1977 that she and her sister, Pam, found the dolls' house in the attic of their parents' home, perfectly preserved in its original storage crate.
They also found their mother's dolls and toys dating back more than 100 years.
"Imagine unpacking those," said Ms Ripley, "It was a magical moment."
From then the sisters began to up their collection of dolls' houses with each furnished with items produced at that time, and offer an intriguing glimpse of family life.
"We deliberately collected houses from every era," said Ms Ripley.
"Individually they're not so interesting, but together they present a complete social history from the early Victorian era onwards."
The sisters also sourced miniature toy stables, shops, theatres, and many toys and games, including rare vintage mechanical toys.
In 2010, they opened the collection to the public for the first time at Ty Twt in Market Street, Newport, Pembrokeshire.
The collection has featured twice on the BBC's Antiques Roadshow and includes a miniature dog which once belonged to ballerina Margot Fonteyn, and doll dresses given Ms Ripley from her childhood friend's father, who was Gone with the Wind star Leslie Howard.
It also features a teddy schoolroom created by the sisters when they were children, saving their pocket money to buy the tiny teddies.
Ms Ripley has bequeathed the collection to Pembrokeshire council, which will create a new permanent gallery suite to house it at Scolton Manor, near Haverfordwest.
The gallery will be funded through a Welsh Government grant of £77,500.