New bid to safeguard Swansea's Morriston heritage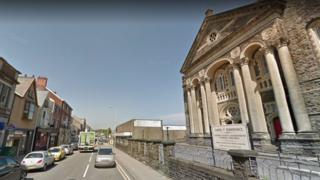 About 250 years ago industrialist John Morris set out to create Wales' first purpose-built workers' village.
Boasting "palatial" accommodation, recreational spaces and a modern grid layout, Morriston, in the east of Swansea, was ahead of its time.
It has had conservation status since 1975 but there have been concerns over the changing face of the main Woodfield Street shopping area.
Now Swansea council wants to strengthen its preservation powers there.
Officials have launched a review which could cover changes to the conservation area's boundaries, as well as exploring opportunities to secure funding for restoration and measures to preserve traditional shop fronts.
Speaking ahead of a public consultation process, Councillor Robert Francis-Davies, Swansea council's cabinet member for culture, tourism and major projects, said: "Morriston was the first planned industrial settlement in Wales, so there are many historic points of interest in the local area.
"An improved conservation area would help identify potential funding opportunities for regenerating historically significant buildings, while also better informing planning decisions in future."
The Morris dynasty began in the 1720s when Shropshire entrepreneur Robert Morris started the first mass smelting at the Llangyfelach Copper Works.
However, it was his son, Sir John Morris, 1st Baronet Clasemont, who made the most lasting impact, when he hired architect William Edwards to create Morris Town, now Morriston, in the 1760s.
At its heart was Morris Castle, containing 24 workers' apartments which were luxurious by the standards of the day.
Sir John became famed for his philanthropy and progressive attitude towards his employees; poet Walter Davies writing of him in 1815 said he seemed "to have been the most extensive individual builder of comfortable habitations for the labouring class".
Local Historian Gary Gregor added: "Sir John left an enduring memorial in the form of Morriston, where you can still see the workers' village laid out in a gridiron pattern, with every cottage having sufficient garden to grow vegetables.
"Built on this, we have a substantial architectural legacy, which includes: Philadelphia Chapel, St John's Church, the old police station on Banwell Street, the Morfydd Street canal bridge, Seion Chapel, Libanus Chapel and the old market hall."
But perhaps the jewel in Morriston's crown is Tabernacle Chapel.
Designed in the 1870s by architect John Humphrey, and funded by £15,000 of worshipers' subscriptions, it was one of Wales' most expensive buildings at the time.
Grade I listed since 1993, it has been described as "the Non-Conformist cathedral of Wales", and was recently voted the nation's favourite place of worship by readers of religious website, Sacred Wales.
Tabernacle is hosting an open day on Thursday 14 September, as part of the conservation area consultation process.
While Morriston was good enough for their workers, it appears it was not entirely to the Morris family's own liking as they moved house, according to Mr Gregor.
Built around 1775, Sir John had a Palladian-style mansion called Clasemont at Pengwern, near the present-day DVLA building.
He said: "The spread of fumes from the copper smelting works in the Lower Swansea Valley rendered it unsuitable, so Clasemont was dismantled in 1805, and transported brick-by-brick well away from the pollution west of Swansea, where much of them went into constructing the Morris' new mansion, Sketty Park House."