Pembrokeshire metal detectorists unearth hidden treasures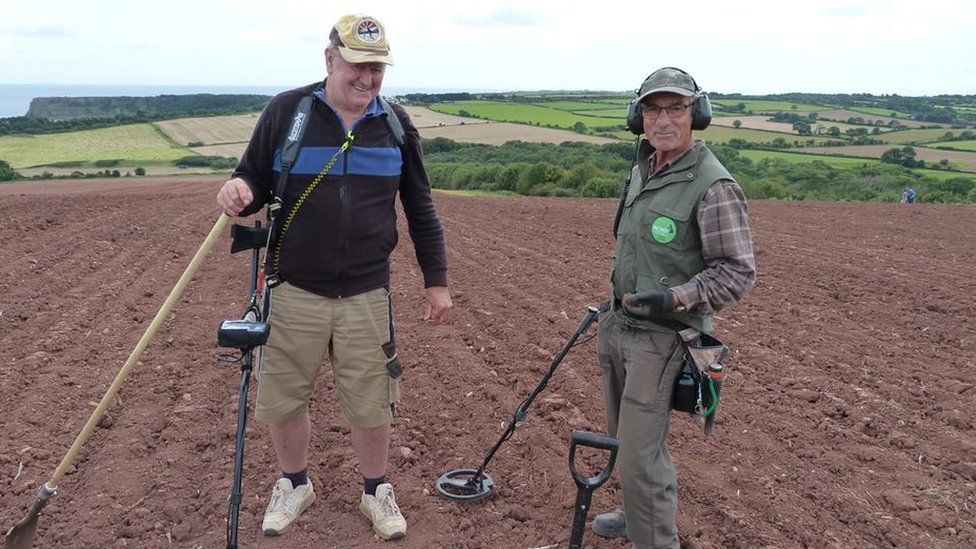 A group of metal detecting enthusiasts is celebrating 40 years of unearthing hidden treasures.
Pembrokeshire Prospectors Society members pride themselves on promoting the hobby of detecting, but also piquing people's interest in local history.
Members' finds make their home in national museums, and a former secretary is credited with one of the finest coin hoards ever recovered from Wales.
The now infamous Tregwynt treasure was discovered in 1996 when the then owners of Tregwynt Mansion, near Fishguard, were digging foundations for a tennis court.
They asked Roy Lewis if he would like to detect in the excavated soil.
"He didn't have much hope," explained the society's chairman, Jack Tree, "but within two or three steps he had found five hammered coins, all pre-civil war."
The late Mr Lewis found 500 coins over the next few weeks, dating back to Henry VIII.
"They don't know who buried it exactly, but, obviously, it was somebody who was either going to war or that they were frightened they were going to be attacked," Mr Tree said.
"There were no banks back then, you dug a great hole somewhere and hoped to be able to come back.
"It was a fantastic hoard and something that people can only dream about."
The society is credited with returning many an engagement and wedding ring to their owners, and receives several requests a month to go looking for lost jewellery.
But perhaps the most rewarding reunion was an American soldier's identity bracelet found by Mr Tree at Picton Castle, near Haverfordwest, which was a field camp for allied soldiers during World War Two.
The solid silver bracelet belonged to Robert Kneeskern. It had his force identity number on the front and "Love Shirley" on the back.
"I thought it would be nice to give it back to the family, but I couldn't get anywhere," said Mr Tree.
"I came to the conclusion that it was a war time romance and the family didn't want to know who Shirley was."
A picture of the bracelet was put on the internet and, about 10 years later, a family from Oregon got in touch to say they had Shirley's identity bracelet, which was identical to the one Mr Tree found, and it carried Robert's name.
"It turned out they were childhood sweethearts. He got based over here, lived through the war and returned to marry her and they lived happily ever after," Mr Tree said.
Mr Tree has been detecting for about 30 years, and said it is surprising how many anglers are detectors and vice versa.
"You just don't know what the bite is going to be," he said. "It could be a 20lb cod or a small flounder.
"It's the same with detecting, when you get a signal you could be digging up a ring pull from six months ago or a Bronze Age axe head."
Mr Tree said a lot of detecting is homework and "you have to put yourself back in the history of a place".
He said he would look for evidence of an old fair or horse trading site where money may have been lost.
"But it's surprising how many newcomers just go to a farm, and having done no research, stumble across things," he said.
Mr Tree said when a person takes up detecting they get a wish-list of things they would like to find. He crossed one item off when he found a 5,500-year-old Bronze Age axe head in Angle.
He also found a silver coin, known as a piece of eight, in the same area.
One of the society's founding members, Trevor Davies, has been detecting for about 45 years.
He was interested in coin collecting but could not afford to buy coins, so his mother suggested he buy a metal detector to find some.
The retired plumber from Saundersfoot said detecting had been his "lifelong hobby".
"If you find something, your interest escalates. You start looking it up in books and on the internet. So you're not just finding something, you're learning about history."
Among Mr Davies' greatest finds is a Roman gold coin, dating back to 200 AD, from Tenby's South Beach, and a Portuguese hammered gold coin he dug up in a field outside of Pembroke.
"To find something like a gold coin is out of this world," he said.
Phil Jenkins has been a member of the society for 10 years and took up detecting as a hobby having spent his working life in London as a police officer and government chauffeur.
"To be able to come here and look at the ground and think of nothing else is absolutely brilliant," he said.
Mr Jenkins has many of his finds exhibited in Haverfordwest Museum.
On 14 February 1844, 58 men, women and boys were working in Garden Pit at Landshipping, on the eastern branch of the Cleddau River, when disaster struck.
The pit workings extended out under the river, and when water suddenly burst through the walls, 40 miners drowned before they had time to escape.
Mr Jenkins said it is a "poignant place to go" and he "really enjoyed learning the history behind the find".
Pembrokeshire Prospectors works to enhance the reputation of detectorists, as some have given the hobby a bad name.
"They go on land when they haven't asked permission and don't show the landowner what they have found." said Mr Tree.
"If you find something valuable, legally 50% of that belongs to the landowner and 50% to the detectorist," he said.
"I recently found a beautiful Henry VII groat, so I rang the farmer and he said 'Jack I'd love to see it'.
"He didn't want it, but he rang me a week later to say his wife would really like it, so of course I gave it to her."
The society meets on the first Thursday of the month at Haverfordwest Cricket Club.
Related Internet Links
The BBC is not responsible for the content of external sites.