'Lost masterpieces' found at Carmarthenshire County Museum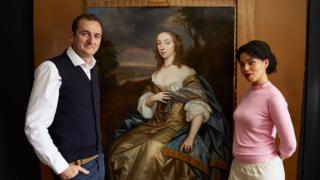 Two paintings at a Carmarthenshire museum have been identified as lost works by important 17th Century artists.
The portraits of the Earl and Countess of Carbery at Carmarthenshire County Museum had been attributed to Sir Peter Lely and 'artist unknown' respectively.
But experts found the countess was painted by Britain's first commercially successful female artist Mary Beale.
The earl Richard Vaughan's portrait has been attributed to Lely.
The investigation to find the true identity of the artists used restoration, research and scientific analysis and featured on the BBC Four programme Britain's Lost Masterpieces.
The portraits were among 21 paintings purchased by Carmarthenshire County Council for the Carmarthen museum in 1985.
Assistant curator Sally Moss first saw the paintings at the earl's ancestral estate Golden Grove, near Llandeilo.
She said: "My goodness me, it would make you weep... 10 of the 21 paintings were in the stairway of the house with a huge great broken skylight above.
"Water was pouring down the walls, all over the paintings... the one of Richard Vaughan, water was running down the walls and all over the painting.
"An awful lot of the varnish had gone and his particularly had a bloom on it, a white bloom which was presumably the amount of water the painting had had."
The programme's presenters, art historian Dr Bendor Grosvenor and social historian Emma Dabiri presented the restored portraits to a crowd gathered at the museum.
Presenting the earl's portrait, Dr Grosvenor said: "I believe this painting is by Peter Lely.
"Because of some condition issues, particularly in areas of the face, there will always be a slight element of doubt about the attribution so we cannot bold as brass put on the label 100% this is by Peter Lely, but we can attribute it to Peter Lely which means we're 90-95% certain."
Ms Dabiri said it had been a great pleasure to discover the true identity of the artist behind the countess' portrait.
He added: "Over the years a lot of her [Mary Beale's] paintings were attributed to Peter Lely because it was believed that a woman artist might not be capable of such exquisite work. It's with great pleasure that we can redress that historical inaccuracy."