Derek Brundrett inquest: Failed referrals before teen's death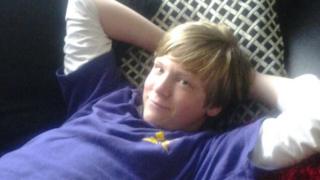 A teenager found hanged in a school's grounds would have received mental health treatment if more information had been given to specialists about his behaviour, an inquest has heard.
Derek Brundrett, 14, was found hanged at Pembroke School in December 2013.
An inquest in Haverfordwest heard there were numerous failed attempts to refer him to mental health services.
A social services referral plan was not completed by Derek's social worker because "she believed him to be happy".
The inquest also heard Derek's GP had made "routine" referrals for mental health treatment in 2012 and 2013.
Angela Lodwick, head of the Child and Adolescent Mental Health Services (CAMHS) for the Hywel Dda University Health Board, said they had to "prioritise children with severe mental health disorders".
She added requests for more information about Derek's condition went unanswered.
But she told the inquest that, at the time, CAMHS was not proactive in seeking more information.
Ms Lodwick said CAMHS would have probably "taken him on referral and made an assessment" if they had known about Derek's risk-taking behaviour and talk of suicide in 2013, such as when he climbed onto the school roof.
She told the inquest the system had been inadequate and "the position was that everyone sat on their hands waiting" but CAMHS has since made improvements.
The inquest has already heard Derek had seven different social workers and record keeping by social services was in a "shocking state of affairs" leading up to his death.
The inquest continues.