Cable car plan proposed for Swansea's Kilvey Hill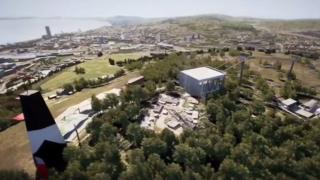 Plans have been unveiled for a cable car, toboggan slide and restaurant with views overlooking Swansea.
The summit will be on Kilvey Hill which council leader Rob Stewart said had been underused for "far too long".
Representatives from New Zealand-based Skyline Enterprises have visited the city twice to discuss a possible move.
It would form part of plans to regenerate the River Tawe corridor with drawings also released for the Hafod Copperworks site.
"It's been an underused resource for far too long, with huge potential to be transformed into a fun visitor destination for local people and hundreds of thousands of visitors a year," Mr Stewart said of the privately-funded project.
"Our talks with the company are still at an exploratory stage, but the fact they're in Swansea for the second time since July shows they're seriously considering Kilvey Hill.
"We're determined to do all we can to help bring this project to Swansea."
On the Copperworks site, the council is working with Swansea University and whisky-maker Penderyn to open a new distillery and visitor centre.
Construction would be between the former powerhouse and rolling mill buildings.
Prof Huw Bowen, from Swansea University, said: "The international significance of this site cannot be overstated because it played a key role in the development of Swansea as the world's leading centre of copper production."