Storms kill two thirds of Skomer Island's seal pups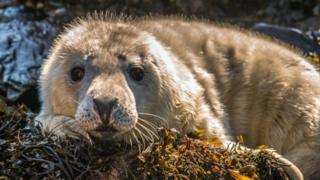 More than two thirds of the seal pups on Pembrokeshire's Skomer Island have been killed in recent storms, according to a wildlife charity.
Buildings on Skomer and neighbouring Skokholm were severely damaged as well by winds and waves.
The Wildlife Trust of South and West Wales is trying to raise at least £25,000 for repairs.
About 90 seal pups were also said to be lost on Ramsey Island after Storms Ophelia and Brian earlier this month.
Ramsey is owned by the RSPB while Skomer and Skokholm are owned and managed by the wildlife trust.
The trust now hopes to raise funds to monitor the impact on wildlife, repair the damage, and storm-proof the islands for the future.
Skomer is an important breeding site for the Atlantic grey seal and island staff monitor the population throughout the year.
Lizzie Wilberforce, conservation manager for Skomer and Skokholm said: "These storms were the strongest since 1987 and unfortunately, violent storms like these are becoming more common as our islands are exposed and vulnerable to severe weather."
"It is vital that we start to put protocols in place to better deal with the potential impacts, on both the islands' wildlife and infrastructure."