Wales rugby player's Llanelli caravan application deferred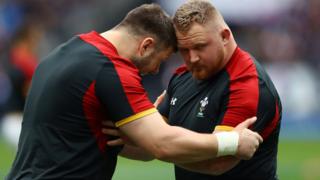 Wales rugby player and "proud traveller" Samson Lee has applied to his local council to put six static caravans on land near Llanelli.
The Scarlets prop wants to move himself and his family to land near Llangennech next to the A4138 road.
Carmarthenshire council deferred the application on Tuesday for a site visit.
A planning committee report said Mr Lee's family has "longstanding multi-generation links" with the area.
The agents applying on Mr Lee's behalf said he was "seeking to establish a new privately-owned site that will meet his family's accommodation needs and allow them to return to their traditional nomadic lifestyle".
As well as the static caravans, the application also includes an access road and landscaping on the site.
Plaid Cymru councillor for Llangennech, Gwyneth Thomas, has objected to the application citing heavy traffic and a rejected application at the same site two years ago.
However, Carmarthenshire council's head of transport and head of housing have not objected to the plans.
Robin Staines, head of housing, said in the report to the council: "The proposal will assist in meeting the identified need for additional gypsy and traveller sites in the county."