Pembroke mum's 'disgust' at trick or treat drugs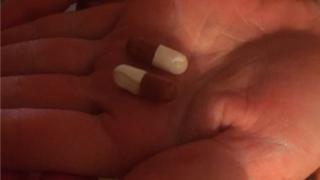 A mother has been left "disgusted" after her child was given unknown drugs while out trick or treating in Pembrokeshire.
Rhian Lloyd said her child was out with her friends in The Green area of Pembroke on Halloween when the tablets were placed in their sweet bags.
"It made me feel sick to my stomach that someone could do that to children," she said.
The incident has been reported to Dyfed-Powys Police.
Ms Lloyd said it was lucky the children did not swallow the tablets by mistake.
She vented her anger on Facebook where similar incidents were said to have happened to other children in the town.
"They are disgusting people and I just want to warn other parents," she said.
Ms Lloyd said she has been researching the red and white tablets on the internet and that the police have since been to collect them.