The story behind Caldey Island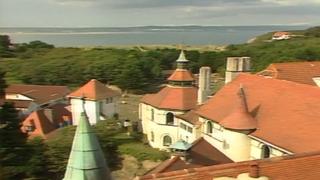 Lying less than a mile off the Tenby coast, Caldey Island is home to a group of Cistercian monks who avoid unnecessary speech and avow dedication to work and hard labour.
The monks live in the monastery on the island, which has a permanent population of just 40 people.
Prior to the allegations of sexual abuse, few crimes had been recorded on Caldey.
The island was first inhabited in the mid-Stone Age and has been occupied by monks since the 6th Century.
The Celtic inhabitants called it Ynys Byr, after Celtic pioneer St Pyr, but the name was changed to Caldey, which means "cold island" in Norse, by Viking invaders.
Benedictine monks from the Pembrokeshire coast occupied the Island in the middle ages, but its modern transformation began in the early 20th Century.
Aelred Carlyle, who called himself "druid Abbot", founded the modern abbey and restored the Norman priory and St Illtyd's church.
But when Carlyle's order went bust and converted back to Catholicism in the 1920s, the entire island was sold to a group of Belgian Trappist monks of the Cistercian order, who still live there today.
The island's economy is mainly based around tourism, welcoming 55,000 day-trippers every year.
It is also famed for cheese and chocolate making, as well as its fragrances, said by perfumer Lawrence Roullier White to be "the most extraordinary scents known to man".
An online shop selling the goods was established in 2001.