Caldey Abbey apology over handling of monk sex abuse claims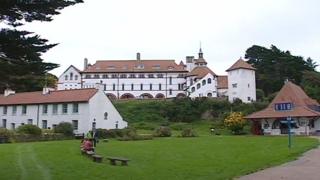 An abbey at the centre of child sexual abuse allegations has apologised that claims against one of its monks were not passed to police.
Eleven women allege Father Thaddeus Kotik abused them on Caldey Island, Pembrokeshire, in the 1970s and 1980s.
A letter shows Kotik's abuse was reported to abbot Brother Robert O'Brien in 1990, but not to police.
Caldey Abbey said they should have been reported, adding: "This clearly did not happen and we apologise."
In a statement, current abbot Brother Daniel van Santvoort said: "It was with great sadness and regret that we heard allegations of historical sexual abuse involving Father Thaddeus who died in 1992.
"Any allegations of child abuse should be reported to the appropriate authorities and investigated. This clearly did not happen and we apologise."
Brother Daniel said at the time the incidents were alleged to have taken place, the present Caldey Abbey Community was not on the island, which exacerbated the difficulties of the claims.
He said he knew nothing of the allegations when he first came to the island in 1990, or when he later became abbot in 1999, but said he forwarded the matter to police and the abbey's solicitors in 2014 when he was contacted by a claimant.
As a result, six women were paid compensation by Caldey Abbey in an out-of-court settlement in March 2017.
Brother Daniel said: "I acted at every step with compassion and empathy, and expressed my regret and sorrow at any such abuse. I flew to Australia to meet two claimants expressly to apologise."
He continued: "I am truly sorry that my predecessors did not report allegations to the police and I am sorry that as an abbey, it has taken so long to compensate for these claims.
"Caldey Abbey has worked to ensure this can never be repeated. We now have robust child protection procedures in place on the island including a child protection coordinator."
"As abbot, I very much regret any harm caused to any layperson as a result of the actions of one of my community, and strive to ensure that every visitor to Caldey enjoys only peace, comfort and the feeling of wellbeing," he added.
Brother Daniel said the abbey was working with Children's Commissioner for Wales, however Sally Holland has denied that is the case.
She has advised anyone with concerns to contact police or the Independent Inquiry into Child Sexual Abuse, the Truth Project, so allegations can be considered.
Brother Daniel added the abbey would fully cooperate with its inquiry and any other investigation.