Bridgend dog-walking ban mooted over mess health fears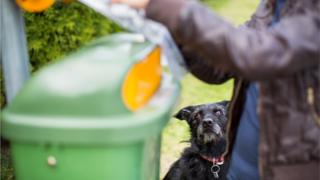 There are calls for a ban on dogs at all council playing fields in Bridgend county to clamp down on fouling after a rugby player got an infection.
Neighbouring council Rhondda Cynon Taf has already introduced tough new rules, fining dog owners £100 if they fail to pick up after their pet.
Now councillor Alex Williams wants Bridgend to take similar action to protect children's and adults' health.
His bid for harsher rules for dog walkers will be debated on Wednesday.
Mr Williams said coaches and players at Heol-y-Cyw and Pencoed rugby clubs had complained about the health implications of dog fouling on their sports pitches.
Heol-y-Cyw club secretary John Powson said one player had to have an operation after getting an infection following a match, thought to be caused by dog mess left on the grounds.
Mr Powson, said: "It started off as a little stud mark on his leg, and then it just got worse and worse."
"We can't prove what caused it, but there was dog muck on the pitch before they started playing and it had to be cleared up, so it seems something of a coincidence," he added.
Mr Powson, who is a dog owner himself, said the club had very little power to stop people from letting their dogs foul on the pitch.
"All we can say is there is a fine if they do not pick it up, it's the ones who have four or five dogs and let them run wild that are the problem, if you have it on a lead and stick to the path it is not doing any harm," he said.
Mr Williams, independent councillor for the Penprysg ward, has started a petition calling for tougher action in Bridgend and has put forward a motion calling for the council to bring in new rules.
These include:
Banning dog walking from all schools, children's play areas and marked sports pitches maintained by the council
Forcing dog owners to keep a dog on a lead at all times at council-maintained cemeteries
Making dog owners carry doggy bags at all times, clean up their dogs' mess immediately and dispose of it properly
Hitting irresponsible dog owners with larger fines for breaking rules
The petition has been supported by Ynysawdre councillor Tim Thomas, who said he will be voting in favour of the motion.
"My daughter plays for a local under-8s rugby team and on numerous occasions coaching staff and grounds staff have had to remove the playing surface of dogs' mess," he said.
"My concern is that, despite these noble efforts, there will inevitably remain some trace of the mess leading to the possibility of people using our playing fields being open to disease and injury."
In October, Rhondda Cynon Taf council introduced new rules including banning dog walking in all council-run school grounds, children's play areas and marked pitches, under a new Public Spaces Protection Order.
Mr Williams said following this example, which saw the local authority run a poster campaign depicting a child eating dog mess left on a playing field, would show Bridgend council was "taking this issue seriously".
Responding to his petition, one resident wrote: "My child is registered blind and uses a long cane to aid him - we have to carry wipes because he cannot see the dog mess when using his cane."
A spokesman for Bridgend council said less dog fouling was a "positive move" but the petition needed to be considered "in closer detail" to "avoid penalising dog owners who already act responsibly".
"With this in mind, we are currently developing a proposal for working in partnership with an external agency to look after and enforce issues such as dog fouling, fly-tipping, littering and more," he said.
"We have also recently introduced additional bins and bag-dispensing stations as part of a trial to make it easier for people to dispose of pet waste in the county borough."