Carmarthenshire council to create house building company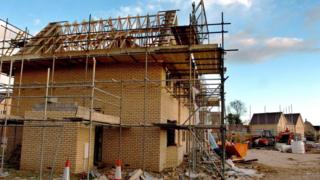 A housing company will be set up by Carmarthenshire council in a bid to build more affordable homes.
It would build a mix of houses for sale or rent, offering people an alternative to social housing, the local authority said.
The new homes would be developed outside the boundaries of the council's housing revenue account, which limits investment in social housing.
Current council stock would not be affected.
The council's executive board agreed to create a council-owned housing company at a meeting on Monday.
The scheme would focus on rural areas and it is hoped it will help people onto the property ladder.
Councillor Linda Evans, executive board member for housing, said: "This new company will allow us to respond to the needs of the people of Carmarthenshire, working with contractors who understand our needs and build developments that will be of help to local people.
"We want to be proactive and creative in meeting the demand for affordable homes, whilst supporting the council's wider regeneration objectives."
The council has previously bought houses on the open market in a bid to deliver 1,000 affordable homes in the next five years.