Caldey Island abuse inquiry call by Darren Millar AM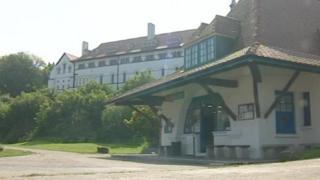 There has been a new call for an independent inquiry into historical abuse on Caldey Island to be launched.
Eleven women claimed they were abused by Father Thaddeus Kotik when they were children. He died in 1992.
Welsh Conservatives children's spokesman, Darren Millar, said the Welsh Government should instigate an investigation.
But he was told during Wednesday's plenary in the Senedd that a police investigation was under way.
A support group has also called for an inquiry.
It comes after allegations of abuse against Kotik were made to the Pembrokeshire island's abbey in 1990, but were not passed on to police.
Officers were told about the abuse in 2014 and 2016, but could not prosecute as the monk had died.
Mr Millar said: "Too many questions remain unanswered as to the extent of the abuse, who knew of what was going on at the time, and why the abbey didn't report these crimes to the police.
"It is only through an independent inquiry that we can arrive at answers to these questions, and move towards some degree of justice and closure for the victims."
Children and Social Care Minister Huw Irranca-Davies said: "We have done so much in Wales in improving our safeguarding procedures.
"But, if there are lessons to be learned from this, both for the Catholic church, but also in terms of wider safeguarding, we will ensure that we learn those lessons."
Officers from Dyfed-Powys Police met representatives from Caldey Abbey and Pembrokeshire council on Tuesday to discuss current safeguarding procedures on the island.
Police said it wanted Caldey Abbey to "strengthen their arrangements".
The abbey has apologised about how complaints were handled.