Glynneath bridge to be dismantled over injury fears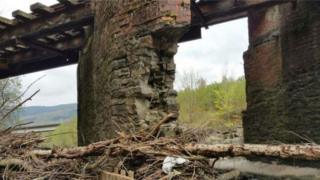 A closed 19th Century bridge is to be dismantled over safety concerns because people keep using it.
Councillors have agreed to remove parts of Langy Bridge and lower it at a cost of £90,000.
Walkers have been removing barriers and rails from the bridge in Glynneath, Neath Port Talbot, so they can cross over the river.
A report said the bridge, in its current state, "presents an increasing risk of injury".
Langy Bridge originally had a rail line running over it, but the track was taken up years ago and it was then used as a footbridge.
The council first tried to close the footbridge with a guardrail in November 2001 but it was "immediately torn down".
Warning signs were put up but the bridge has deteriorated further.
Subsequent barriers have all been pulled down and the authority is in the process of putting another replacement up.
Other suggestions for the bridge included refurbishing the footpath to make it useable which would have cost of £444,150 or building a new footbridge at a cost of £681,750.
An 800-name petition was sent to the council calling for it to be restored or replaced, saying it had been used "by the people of both Glynneath and Cwmgwrach, as a means for pedestrians to cross the river for many years".
However, the report said the alternatives were unaffordable.