Ghost fishing gear campaigner John O'Connor recognised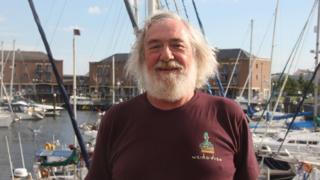 One man's work to minimise the devastating impact fishing litter can have on the marine environment has been recognised with a national award.
John O'Connor has campaigned to keep Pembrokeshire's coast free of lost or discarded fishing tackle which can entangle crustaceans, birds and seals as well as damage habitats.
Known as ghost gear, it can take hundreds of years to decompose.
Mr O'Connor has been named World Animal Protection's Sea Change Champion.
He has worked closely with Neptune's Army of Rubbish Cleaners (NARC), whose volunteer divers regularly clear Pembrokeshire sea beds of marine litter.
Mr O'Connor from Pembroke Dock has been fishing for over 50 years, and has used his experience and expertise to come up with information leaflets for local and visiting anglers.
His advice includes:
Fish in high water to avoid snagging lines on rocks
Use hooks that will straighten to minimise lost tackle
Use biodegradable line
He has also been involved in promoting the Pembrokeshire Marine Code App which features a code of conduct, maps and information about wildlife, and providing tackle litter bins at popular fishing locations.
"I don't like the thought of all that fishing gear being left out there, there is no need," said Mr O'Connor.
"Small modifications to the way we do things can have a large impact on our ecosystems, especially if a significant number of us buy into them."
He said he was "gobsmacked" to receive the award, adding "there is always something we can do to help the environment".