Dorothea Bate: Carmarthen scientist gets blue plaque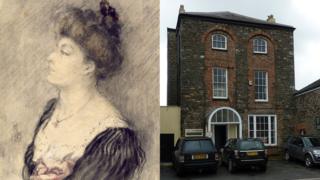 The woman believed to be the first to be employed as a scientist at London's Natural History Museum has had a blue plaque dedicated in her home town.
Dorothea Bate, born in 1878, had little formal education but a fascination with wildlife and nature prompted her to leave Carmarthenshire aged 19 and ask for a job at the museum.
She spent more than 50 years there and led expeditions around the world.
The plaque was unveiled at Napier House in Carmarthen where she was born.
Ms Bates became an expert in archaeozoology, the study of animal remains, and her largest discoveries included fossilised elephants and the bones of a giant tortoise in Bethlehem.
The plaque will be dedicated by paleobiologist Tori Herridge at a ceremony organised by Carmarthen Civic Society at 18:00 GMT on Wednesday.
Dr Herridge said: "She's pretty special - can you imagine in 1898 marching up to the museum and asking to see the curator of birds?
"I hope anybody who walks past Napier House and looks at that blue plaque, it makes them think 'that's interesting, who is she?'
"Little signs might open people's minds up to a world they weren't previously aware of."
Ms Bate's first job at the museum was classifying bird skins, but the focus of what became her life's work was exploring how and why different species adapt and change.
She studied fossils and was fascinated by archaeology which led her to specialise in archaeozoology.
Dr Herridge said her work at the museum came from a passion for the natural world that her upbringing afforded "the money and freedom to explore".
"She was very self-confident, very clever and very determined and totally and deeply interested in the subject she wanted to study."
Ms Bate's expeditions took her as far afield as Cyprus, Malta, Crete, China and Palestine, from where her finds were taken back to the museum in Kensington.
Contrary to what people might expect, Dr Herridge said when Ms Bate was in Crete in 1904, she was one of three female scientists involved in excavations.
During World War Two, Ms Bate worked in the zoological branch of the museum in Tring, Hertfordshire, and became its officer in charge.
She was elected fellow of the Royal Geographical Society in 1940 and continued working until her death in 1951.