Llanelli woman's nudist dating site £50,000 fraud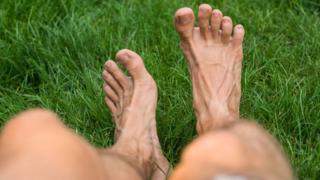 A fraudster who met her victim on a dating website for naturists scammed him out of £50,000.
Moira Etchells, 45, met Ian Chatting-Tonks in 2013 and persuaded him to lend her the cash to start a business artificially inseminating cows.
Swansea Crown Court heard she spent £35,000 on a new Land Rover and banked the rest.
Etchells, of Llanelli, Carmarthenshire, admitted fraud and got an 18-month sentence, suspended for two years.
Widower Mr Chatting-Tonks, from Norfolk, went online to search for a new partner who was also interested in naturism, which is when he found Etchells' profile.
He paid for her to fly to Alicante where she persuaded him to back a new cow insemination and hoof trimming business.
She said it would give her more time to visit him once a month in Spain, where he had retired to live.
He sent her a total of £50,000, but became suspicious when she started taking longer to respond to his emails.
When Mr Chatting-Tonks said he was going to visit Etchells in Wales, she claimed to have moved to Ireland.
Dyfed-Powys Police began investigating and when caught, she repaid £50,000 in full after selling the Land Rover.
The court was told Etchells had underlying bipolar effective disorder and her condition led to her making "fanciful" claims.
"I have found this case truly bizarre," said Judge Geraint Walters.