12.5% Pembrokeshire council tax hike moves forward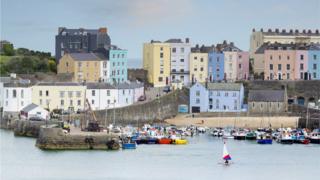 Plans to increase council tax in Pembrokeshire by up to 12.5% have been supported by councillors.
The authority's draft budget was debated by the full council on Thursday and members were told it has a £18.6m funding gap for 2018-2019.
Pembrokeshire has had one of the lowest rates in Wales since 1996, something cabinet member for finance, Bob Kilmister, said it was "now paying the price for".
A final decision will be made in March.
There is no official cap on council tax rises, but an informal limit of 5% has been set by the Welsh Government - this has never been challenged.
Options put to members included raising council tax by 5%, 8% or 12.5%.
A 12.5% increase would see council tax for a band D property increase from £883.15 to £993.54.
The budget will now go before scrutiny committees before the cabinet makes a final recommendation to full council.
Mr Kilmister said the larger rise was the only option that "offers protection to school budgets".
"No politician in their right mind would choose to do this, but it is the lesser of two evils," he said.