Man targets two women at same Swansea cash machine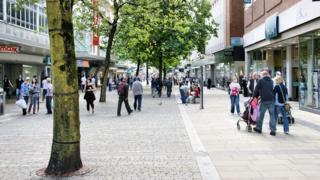 A man has been arrested after two women were targeted in separate incidents as they withdrew cash from a machine.
A woman withdrew money from a Lloyds Bank cash machine on Oxford Street, Swansea, at about 17:15 GMT on Friday.
Police said the suspect had been watching her and stole cash before being chased and caught by two bystanders, but managed to escape.
South Wales Police said the same man tried to steal from a woman at the same cash machine a short time later.
Police said a man had been arrested in connection with the second incident, but officers were keen to trace the first woman as that incident had not yet been reported.
She is described as being about 70 years old, 5ft 4in tall with dark hair and was wearing a long coat.
They also hope to trace the two men who chased and grabbed the man in the first theft.