Neath family's £80k health bill for daughter's rare conditions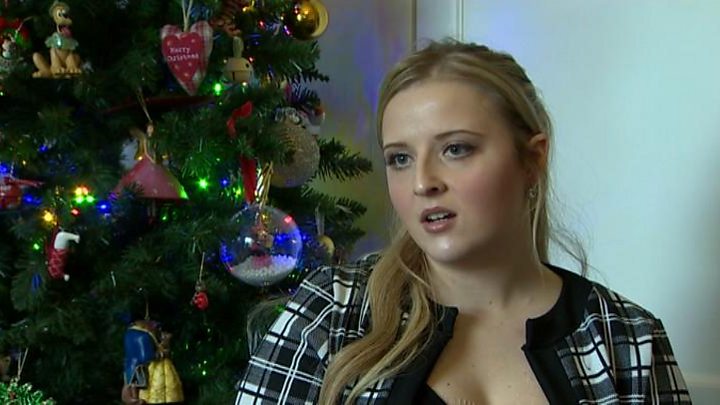 Parents of a woman with a combination of rare illnesses said they have spent £80,000 for private treatment in London because there are no specialists in Wales.
Hannah Amelia Evans, 27, from Neath, could die if she catches a cold.
Her limbs easily dislocate; she has a heart condition; and her cells mutate and attack her immune system.
With a lack of specialist care in Wales, Ms Evans travels to London every few weeks.
"You can't put a price on the life of your child," her mother, Helen Harry, said.
Ms Evans has Ehlers Danlos Syndrome (EDS), a rare genetic condition which causes her limbs to dislocate; and Postural Orthostatic Tachychardic Syndrome (POTS), a heart condition which causes palpitations and fatigue, and mastocytosis.
Mastocytosis is incurable and means cells which are meant to protect her mutate and attack her body instead. This affects her immune system and increases the risk of anaphylactic shock.
It means Ms Evans cannot be left alone. She has had to give up her job and cannot get insurance.
She also has to take 100 tablets every day and nurses call to her house to administer treatment from an IV drip into her body via a Hickman line which is inserted in to her chest.
Ms Harry, said: "Every time Hannah goes to London - because we have to buy the drugs as well as seeing the consultants, the blood tests - you're talking between £1,100 and £1,200 and that's every six to eight weeks.
"Any additional investigations the NHS can't cover, we have to pay for them. Overall since Hannah was about 18 we've spent well over the £80,000 mark. You just can't put a price on the life of your child.
"The worry is, what happens when it runs out? Hannah's condition is currently incurable. We tend not to think of it like that. We just work it day by day, week by week and pay for it like that. You cash things in, we work harder, we fundraise harder."
Ms Evans was 19 and at university when she was diagnosed with EDS.
Her weight fell to 5st 7lbs (35kg) and she was left bed-ridden.
"Unfortunately during my first teaching job I caught measles and not realising the seriousness of the mast cell activation disorder (mastocytosis), I ended up in intensive care and well, I nearly died," she said.
"I was on life-support and all that came as a bit of a shock, because when I become ill my body will attack itself rather than fighting back."
But Ms Evans remains upbeat and positive and writes a blog to raise awareness of the conditions.
She said: "I do struggle, especially this time of year, to go out because I have to avoid the cold. I get so nervous and I know people say to me you shouldn't shut yourself away, but it's easier said than done when a simple cold could actually kill me.
"When I go out with my mask on, I'll have my phone in my hand to avoid eye contact with people. It's a natural instinct for people to look, that doesn't bother me, but I do get a bit embarrassed because I think people believe I have the germs when in actual fact it's for my safety."