Port Talbot steelworkers' pension help 'grossly inadequate'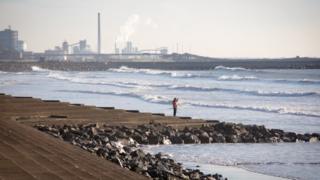 Action to protect steelworkers' pensions has been "grossly inadequate", a committee of MPs has said.
The regulator the Financial Conduct Authority has been investigating 17 companies after Tata employees said they got bad advice about moving from the British Steel Pension Scheme.
Works and pensions select committee chairman Frank Field has now written to the body criticising their actions.
The FCA said it would respond to the letter.
Many employees have large pension pots, such as Port Talbot worker Paul whose pension is worth £460,000.
He was advised to transfer to a scheme in Ireland that would have carried high charges.
Mr Field, the MP for Birkenhead, wrote to the consumer protection body criticising their response to protect workers after hearing evidence in parliament last week.
He said: "While the action the FCA has finally taken to protect members of the BSPS is welcome, I remain concerned that its overall approach has been grossly inadequate.
"The FCA is a consumer protection body. It would behove them to stop pussy-footing around and start protecting consumers."
Tata's £15bn British Steel Pension Scheme was seen as a significant barrier to a potential merger with German steel producer ThyssenKrupp.
But the two have agreed to take the first steps towards a deal.
About 130,000 workers and former workers across the UK with British Steel Scheme pensions have until Friday 22 December to make a decision on future arrangements.
Options include, staying with the current scheme - which will fall into the Pension Protection Fund - moving to a new British Steel Pension Scheme, or transferring to a personal one.
However, concerns have been raised about a "feeding frenzy" and "a honey pot for scammers" as financial advisers have targeted workers.
"Transferring out of a gold plated final salary pension is generally a terrible idea, except in very particular circumstances," Mr Field added.
"And firms routinely advising people to take this route should be shut out immediately."
Six companies have agreed to stop advising after speaking to the FCA while it continues to investigate a further 11 active in Port Talbot.
But Mr Field said: "The FCA has been slow and reactive where these sharp practitioners and parasites moved straight in months ago.
"If the FCA isn't equipped to pick them out now it should just stop transfers happening while it gets its house in order."
An FCA spokesman said: "The FCA has received the letter and will, of course, respond to it."