Welsh woman in Australia's first same-sex marriage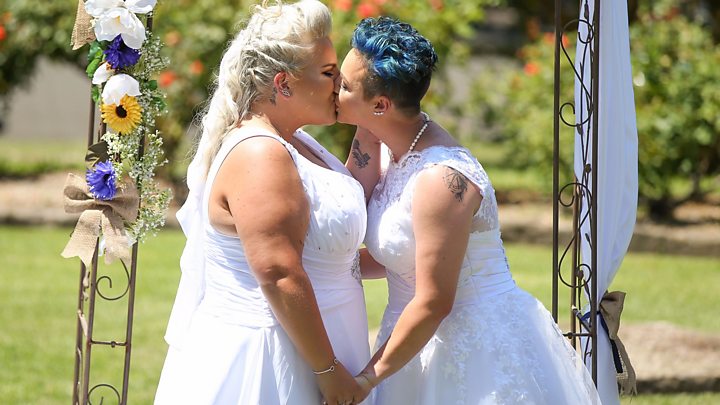 A Welsh woman and her partner have become the first to marry in Australia under the new same-sex marriage law.
Lauren Price, 31, originally from Briton Ferry, wed Amy Laker, 29, in Sydney on Saturday.
The couple had planned a ceremony at the British consulate but applied to have the Australian marriage ceremony instead once the law changed as family members were travelling from the UK.
Other couples will have to wait until January to tie the knot.
The law change came into effect on 8 December, but couples have a 30-day waiting period after registering to marry, and the first marriages had been expected on 9 January.
However both Ms Price and Ms Laker and another couple in Melbourne applied to hold their weddings earlier because their families had already travelled to the country for previously planned commitment ceremonies.
Ms Price told BBC Wales' Good Morning Wales programme that when she left the UK she had planned to travel the world but events took a different turn.
"I was planning on travelling quite a way, but I ended up going to Australia first. Two weeks later I met Amy in a bar in Sydney and we became inseparable. I ended up staying here really and didn't do any travelling," she said.
"After a year I took Amy back to Wales to meet my family and we went on a short trip to Paris and I proposed on top of the Eiffel Tower.
"We did plan on marrying and it was in place for around 18 months but we were going to have to do it through the British consulate in Canberra.
"It was going to be on a different date to when the commitment ceremony was, when all of our friends and family were going to celebrate with us. When the law changed we put forward a shortage of notice [application to marry], and we were lucky enough to be able to make the ceremony the actual legal marriage as well, which was really fortunate."
"[Being married] means everything because legally over here it would have meant a lot of complications.
"As a partner you wouldn't have the rights without being married, as other couples do, to anything even if something bad happened in hospital, or children.... it's more awkward to explain things without having a marriage certificate to be able to show that you've got that commitment to each other and have a legal document."
The attention they received from around the world has been "overwhelming".
"I can't believe how many people have got in touch - even the day before we were getting married, everyone was getting in touch with us and we were like 'oh no, there's a lot to be getting on with'. Obviously we were very pleased it was such a good, positive message going out everywhere," Ms Price said.
"All the positive comments and everything, even on Facebook, and people we don't know - it was amazing."