Swansea man's £11,000 ice slip payout bid dismissed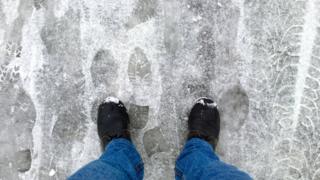 An 83-year-old man who was injured after slipping on ice in an unmanned Swansea car park has had his compensation claim dismissed.
Ivor Cook, of Sketty, broke his ankle in the accident at the Bush car park in December 2012 and was seeking £11,000 in damages.
He had his negligence claim rejected at the county court but took his fight to London's Appeal Court.
But senior judges ruled on Tuesday that Swansea council was not to blame.
The council had insisted it could not be blamed for extreme winter weather.
Lord Justice Hamblen said ice during cold weather was "an obvious hazard" and public authorities generally owed no duty to protect against it.
The council had a "reactive" system for sending out gritters when issues of ice were flagged up by members of the public.
Clearing the council, the judge noted there had never been previous reports of hazardous ice in the car park or previous accidents.
The court previously heard Mr Cook fell at about 10:30 GMT as he was walking down an incline on his way to the ticket machine.
Council officers had dispatched gritting lorries that morning but these were focused on highways.
Mr Cook's lawyers argued the council should have employed a more "proactive" system.
But the council's barrister, Timothy Petts, argued there were limits to what could be done and told the court: "Swansea City Council cannot control the weather."
Dismissing Mr Cook's appeal against an earlier ruling, Lord Justice Hamblen found the council had not breached its duty of care.
"There is generally no duty to protect against obvious hazards," said the judge, who was sitting with Lords Justice Longmore and Henderson.