Ex-police officer Andrew Stevenson stabbed ex over £152k payout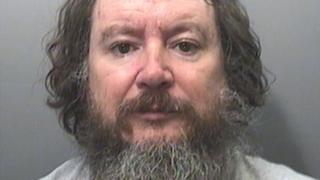 A former police officer who stabbed his ex-wife 22 times after being forced to pay her £152,000 in a divorce settlement has been jailed.
Andrew Stevenson, 58, of Morriston, lay in wait for Lyneth, who he was married to for 27 years, and was heard shouting "I want her to die" as he attacked her.
He pleaded guilty to attempted murder at a previous hearing at Swansea Crown Court.
Stevenson, who has two sons with his ex-wife, was jailed for 16 years.
The court heard that psychiatric reports noted he had become "preoccupied to the point of obsession" with what he felt was the injustice of the settlement after the 2016 divorce.
John Hipkin, prosecuting, said on 20 August, Stevenson wrote, but did not send, a text message seemingly intended for one of his sons in which he said: "Forgive me for what I am going to do. She is not robbing £150,000 from us. Look after yourself and the three others. You take care, I will always love you."
Then, in the early hours of 5 September, Stevenson armed himself with two knives and travelled from his home in Morriston to his ex's home in Aberdulais, Neath, where he attacked her with knives while shouting: "She has taken everything from me, I want her to die".
However, her new partner William Parsons "wrestled" with the attacker, and managed to get one of the knives off him.
'Anxious and fearful'
Eventually Mrs Stevenson got free, crawled into her flat and made a 999 call, and Mr Parsons tried to stem the bleeding from her wounds.
When paramedics arrived they found the victim with some 22 laceration and puncture wounds to her chest, back, arms and legs.
On the way to Morriston Hospital, Mrs Stevenson asked the ambulance crew if she was going to die. She had to spend three days in hospital.
In a subsequent victim impact statement she said the attack had left her anxious and fearful.
She added: "My husband took away my normal life when he decided my life was less important than his money, less important than for his children, and hopefully their children, to see their mother."
Judge Keith Thomas said the defendant had clearly thought about the killing and imposed a 21-year extended sentence for public protection, comprising 16 years in custody and a five-year extended licence.
He also made Stevenson subject to an indefinite restraining order banning him from contacting the couple.