Caldey Island: Family's review calls into girl's drowning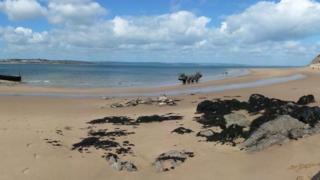 The family of a child who drowned while swimming on a Caldey Island beach has asked for her inquest to be reviewed - 40 years after she died.
Theresa Biggs was six years old when she died on 18 July, 1977. She was on holiday with her family at the time.
An inquest heard a nun who was supervising the children on the beach told Theresa not to swim in the water - but her family said that was not true.
BBC Wales has contacted the coroner in Pembrokeshire about the family's calls.
Theresa's sister Joanna Biggs said that Sister Sheila Singleton lied and that Theresa had not disobeyed an instruction not to swim in the sea.
"Sister Sheila's account is not true," Ms Biggs said.
"I distinctly remember helping Sister Sheila to put on Theresa's armbands and then she said 'off you go'."
Ms Biggs, now 48, has come forward following reports of historical sexual abuse by a monk who lived on Caldey Island between 1947 and 1992.
Waiving her right to anonymity, she said she was also abused by Father Thaddeus Kotik as a child, and now wants the truth about her sister's death to be reported.
Sister Sheila, who died in 2004, was supervising a group of children who were swimming on Sandtop Bay.
Reports at the time said there was a heavy swell and a strong breeze, with a strong undercurrent in the area.
The coastguards who eventually recovered the girl's body described the winds as "one of the worst" for that part of the island, with the tide at half-flood.
A 14-year-old boy gave a statement, which was read out at the inquest.
It said that Sister Sheila had asked him to take Theresa down to the water and he said yes.
"We both went into the water but it was too deep for the girl so I brought her out," the statement said.
"We decided to go back in and this time it was shallower."
He said that the waves were high and the tide was coming in and that Theresa got into difficulty by the rocks.
He, and another boy, tried to help her but the waves made it too difficult.
A third boy also tried to help but could not reach her as the current was too strong.
Ms Biggs said the memories are very painful.
"I remember looking up and seeing a real kerfuffle on the rocks and seeing the nun's grey veil blowing in the wind.
"When I went over to ask what was happening she turned and looked at me and I can honestly tell you it was a face of complete horror. It was very frightening."
Her family has now called for the inquest to be reviewed.
"The message that comes across is that my poor sister was responsible for her own drowning, and if not completely responsible, then the poor boys who tried to save her were also responsible for her drowning," said Ms Biggs.
"It's a false message. This is the kind of thing that goes on hurting and re-traumatising us over and over and over again.
"These are important issues for not just me but my parents too - they've suffered a lot over the years."
She said that she was haunted by the fact that three young boys had tried to help Theresa but there were adults on the beach and the rocks who did not help.
"This was a heavy enough burden for these children to carry for the rest of the lives but on top of this, there was no mention in the inquest about the actions of the adults who were present that day - except for the false statement of Sister Sheila," said Ms Biggs.
"Questions need to be asked - why were any children at all allowed to swim on such a dangerous beach that day? Why did no adult enter the water to try and to assist the boys?"
She also questioned why no adequate warning signs were put up after her sister's death.
"My family has returned year after year to Caldey Island and it distresses us to see no adequate warning signs of the dangerous underwater currents at Sandtop Bay," she added.
BBC Wales has contacted the coroner in Pembrokeshire about the family's claims.