100 cars block Preseli Hills mountain road in snow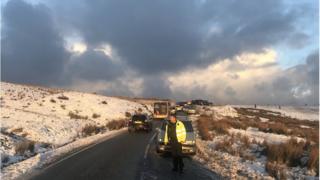 Police officers were called to a mountain pass after snow-lovers caused traffic problems by parking illegally.
More than 100 cars were parked at the side of the road by people enjoying snow on the Preseli Hills near Brynberian, Pembrokeshire.
Dyfed-Powys officers spent two hours rounding up motorists and asking them to move their vehicles.
A public car park off the B4329 road has space for about 30 vehicles but was full.
A Dyfed-Powys Police spokeswoman said: "Officers managed to move the bulk of the vehicles.
"There were more than 100 cars parked up and they were causing a problem."
The spokeswoman said none of the motorists received a penalty charge notice, adding: "There just wasn't time".