Swansea Grand pantomime cancelled after water pipe bursts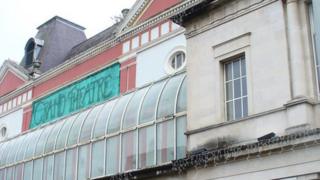 Performances of a Swansea pantomime have been cancelled after a burst water pipe flooded part of the venue.
Swansea Grand Theatre tweeted it had "lost key electrical systems" and Saturday's performances of Aladdin had been cancelled.
But the theatre have said that the "pipes are fixed and power is restored" and the box office is "up and running" so Sunday's performances will go ahead.
The show runs from 15 December to 14 January.
"We continue to apologise to all customers affected by today's cancellations," said a statement by Swansea Grand.
The theatre also asked for customers to "please be patient" as their box office is receiving a "massive number of calls".