Pension funds 'game-changing' for £1.3bn tidal lagoon bid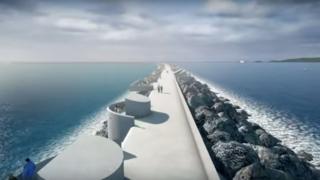 The world's first tidal power lagoon could be part-funded by money from pension pots.
The £1.3bn Swansea Bay Tidal Lagoon appears close to being thrown out by the UK government over costs.
The sticking point is that they are not willing to pay Tidal Lagoon Power (TLP) the fee it wants for energy.
But with the offer of £200m on the table from the Welsh Government, backers hope the use of pension funds could help to push the scheme ahead.
Managers of the Wales Pension Partnership (WPP) will be writing to the Welsh and UK governments to confirm their backing of the scheme.
Swansea council leader Rob Stewart said the news was "another game-changing moment" for the project.
He added: "Pension fund managers are an extremely cautious group.
"They recognise the importance of investing for the long term and they also recognise that pension funds need to look carefully at the impact of what they do."
WPP chairman Mark Norris, said: "Investment by pension funds in such projects is being encouraged by the UK government.
"Of course, as Swansea is a pathfinder project, it could be the first of other investment opportunities in Wales."
Tidal lagoon: The timeline
2003: Plans first emerge for a £30m tidal power project in Swansea Bay from a green energy charity
2006: Tidal Electric Ltd prepares a scoping report for a lagoon to take the project on but it is put on hold
2012: Tidal Lagoon Power (TLP) unveils its ambition to develop a breakwater and power generation
2013: TLP starts developing its plans
2014: Plans submitted to Planning Inspectorate with a cost of £850m
2015: Proposals get backing of UK government, subject to subsidy agreement - hope it could be operational by 2018
2016: Report warns of impact on fish and Charles Hendry is appointed to lead independent review into £1.3bn lagoon's viability
2017: Hendry review backs the lagoon as a "no regrets" option but the UK government is still to decide
2018: Delays, mostly believed to be over arguments over value for money. Welsh Government also offers substantial investment
TLP had previously asked for a 90-year contract with the UK government with an average strike price of £89.90 per megawatt hour. The new nuclear power station at Hinkley Point C in Somerset was given a strike price of £92.50/MWh for 35 years.
In January 2017, a UK government-commissioned report published by former energy minister Sir Charles Hendry recommended that tidal lagoons could play "a cost-effective role in the UK's energy mix".
Twelve months later, the Welsh Government offered the project "substantial investment" to help reduce the subsidy required.
But the UK government has continually refused to commit to the project saying it "must be affordable".
In March, Business Secretary Greg Clark told MPs the UK government does not want to "close the door" on the Swansea lagoon.
However, with reports suggesting it is about to close with First Minister Carwyn Jones saying it would be "another kick in the teeth" for Swansea after rail electrification to the city was abandoned earlier this year.