Storm washes up 'mermaids' tears' on Pembrokeshire beach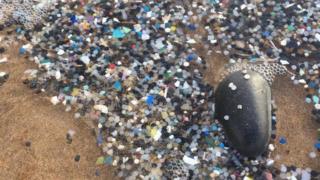 Nature lovers have been picking up thousands of tiny pieces of plastic washed-up on a Pembrokeshire beach after stormy weather.
Rhian Sula, 35, came across the plastic pellets - known as "mermaids' tears" or "nurdles" - while walking her dog on Freshwater West beach on Thursday.
Worried about the impact on fish and unable to pick them up on her own she called for help on social media.
Ms Sula said a mass clean-up would take place on Sunday.
Ms Sula, who works for the National Trust and lives close to the beach, said she had often seen the "mermaids' tears" washed up along the beach, but never in that quantity.
"It looked like a river," she said. "I have never seen pools of this type, there were thousands, if not millions of them."
After trying to pick up as many up as she could and putting them in a dog poo bag, Ms Sula posted a call for help on Facebook which has been shared more than 100 times.
Ms Sula said the pieces of plastic could be eaten by shellfish and fish, and eventually end up being eaten by humans.
"It's just so sad to see so many pieces of this plastic on the beach," she said.
The organised clean-up will take place at 12:00 GMT on Sunday.