Car driven four miles on three wheels in Pembrokeshire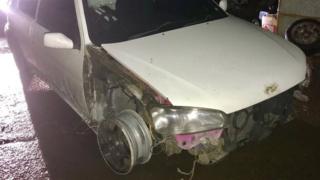 A teenager who drove a car through Pembrokeshire on three tyres was found after police followed 4.4 miles (7.1km) of rim marks gouged into the road.
Dyfed-Powys Police was alerted to the driver after a person saw the bare wheel causing sparks on the road.
A 17-year-old is alleged to have driven from Crymych to Eglwyswrw, where it was found parked on Thursday.
The driver was arrested for having no insurance, no MOT and driving the car in a dangerous condition.
The Peugeot has been seized by police and banned from the roads.