Bluestone resort's £7m Pembrokeshire 'SkyDome' approved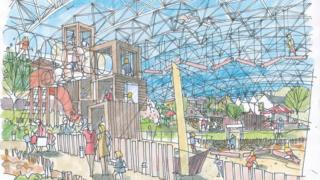 Plans to build a £7m "SkyDome" which will cover the size of a football pitch have been approved for a Pembrokeshire tourist attraction.
Bluestone National Park Resort wants to build a transparent canopy to cover an area of 7,000sqm at its resort near Narberth.
It will house a cafe, shops, activities and a 600-seat amphitheatre.
The company said the project will create 55 jobs and boost the local economy by over £21m over 10 years.
Pembrokeshire council's planning committee conditionally approved the plans on Tuesday.
Bluestone hopes to finish building the dome, which measures 116m (380ft) high and 77m (252ft) wide, by spring 2019.