Gang jailed for Swansea crack and heroin supply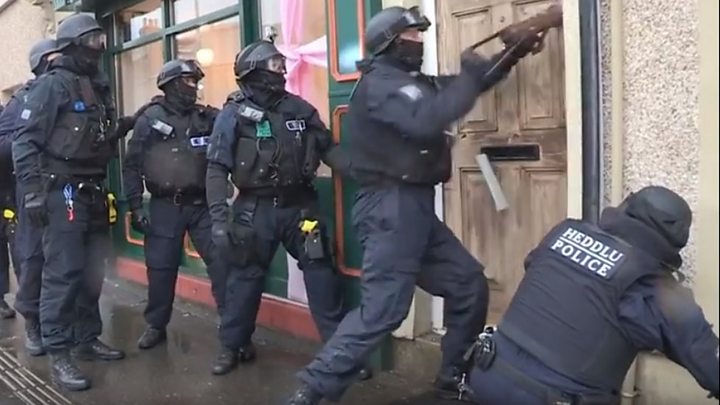 A gang has been jailed for conspiracy to sell heroin and crack cocaine following a major police operation.
The 12 defendants, aged between 21 and 43, will serve sentences ranging from 32 months to nine years after admitting conspiracy to sell Class A drugs.
Swansea Crown Court heard Ahmed Hussain, 29, and Mustafa Mohamed, 29, oversaw the transportation of the drugs by train and along the M4.
Judge Keith Thomas said the men played a "leading part" in the drugs ring.
Hussain will serve nine years and Mohamed faces six-and-a-half years in prison for running a "county line", which are systems run by organised crime groups in major cities such as London that provide telephones and drugs to sellers in seaside towns.
Elen Ekpaloba was given a sentence of four years and four months for taking over the running of the county line after Hussain and Mohamed were arrested.
Nine other people received custodial sentences ranging from 28 months to four years.
They all pleaded guilty to two counts of of conspiring to sell Class A drugs, namely heroin and crack cocaine, in a trial in November.
The group were arrested by South Wales Police as part of Operation Blue Thames, which saw 80 properties searched and several raids carried out across south Wales.
Police launched the operation in October 2017 in an attempt to cut down on organised crime.
More than 600 officers were involved and a total of 67 people were arrested, with more than half coming from the Swansea and Neath areas.
Police tracked a number of "county lines" over a six-month period, finding tens of thousands of text messages sent from two phones arranging deals and giving locations where drugs could be picked up.
Prosecutor Ian Wright told the court the police estimated the group made £103,000 in sales from a single phone on one county line known as the "T-line".
Three other members ran a separate line called "PK Johnny", which was making £520 a day from the sale of drugs.
Judge Keith Thomas said: "They made the streets of Swansea a place from where they peddle their pernicious ways."
The group were sentenced as follows:
Mustafa Mohamed, 29, London - Nine years
Ahmed Hussain, 29, London - six-and-a-half years
Elen Ekpaloba, 21, Cricklewood, London - 52 months
Jamie Knox, 26, Swansea - four years
Phillipa Turner, 29, Swansea - four years
Jonathan Harling, Swansea - 44 months
Kerry Inger, 21, Swansea - three years
Michael Chalk, 48, Swansea - 32 months
Fahima Jama, 22, London - 44 months
Nigel Dixon, 43, Swansea - 32 months
Sophie Colfer, 27, Swansea - 28 months
David Parry, 33, Swansea - 28 months