'Arguable breaches' in Castlemartin firing range deaths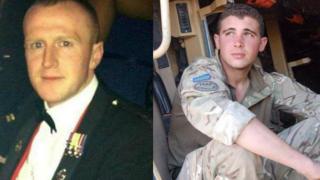 There were "arguable breaches of the state's obligations" when two soldiers died following a training exercise, a pre-inquest into the deaths has heard.
Corporals Matthew Hatfield and Darren Neilson from the Royal Tank Regiment died after an ammunition round exploded in their tank during an exercise.
Two other soldiers were injured in the incident at Castlemartin firing range in Pembrokeshire on 14 June 2017.
The coroner will see what safety checks and risk assessments were in place.
Senior Coroner for Birmingham and Solihull, Louise Hunt, gave details during a review in Solihull on Monday ahead of a full inquest in July.
The provisional cause of death for Cpl Hatfield, 27, from Amesbury, Wiltshire, was burns, while Cpl Neilson, 31, of Preston, suffered a cardiac arrest as a result of blast-related injuries.
A previous hearing detailed how it was thought married father Cpl Neilson was the tank commander and was "positioned within the turret" at the time of the blast.
Cpl Hatfield, a father-of-one who was engaged to be married, was the armoured vehicle's operator and was "loading the ammunition in the tank".
The court was told Article Two of the European Convention on Human Rights - the "right to life" - would be invoked during a full inquest in July.
It means the inquest can consider if the state or a public body may have played a part in the men's deaths.
"It is my view that there are arguable breaches of the state's obligations," Mrs Hunt told the court.
She will also consider two potential issues with safety checks before shots were fired from the tank.
"The third arguable breach is the persistent practice of storing charges on the floor, which is contrary to training…. and hadn't been rectified by the MoD," she added.
Mrs Hunt said consideration would also be given to what procedures were in place for so-called "guest shoots" which were not part of the formal exercise.
The MoD made a late application to postpone the inquest until later this year due to the availability of witnesses.
Turning down the request, the coroner cited the 'considerable' notice already given to 'everyone involved'.
Families of the men who died told Mrs Hunt they had 'waited long enough'.
Health and Safety Executive and MoD service investigations are ongoing.
The coroner will write to the MoD to request that any relevant information from its ongoing inquiry into the incident be made available to the full inquest.