Police appeal to find family of crash victim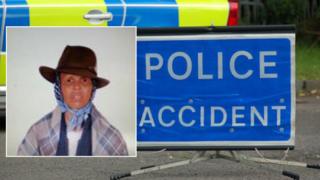 An appeal has been made to find the family of a 58-year-old woman who died in a road accident in Carmarthenshire.
It is believed she was hit by a car while walking along the B4302 between Llandeilo and Talley at about 18:00 GMT on 29 January.
Dyfed-Powys Police said the woman went by different names, including Pasqual Lorentz and Gwendy Elizabeth Tolley.
Despite extensive inquiries, they have not been able to find any relatives.
Investigating officer, PC Sara John, said: "We have now exhausted all other lines of enquiry and appealing for information via the media and social media is our final attempt to find her next of kin.
"This is a really saddening situation and while it is unpleasant news we have to deliver to any next of kin, it is our duty as police to make every attempt to find someone to let them know what has happened.
"She was well known in the local area, but lived alone and did not have any relatives living locally."