Swansea City FC takes control of the Liberty Stadium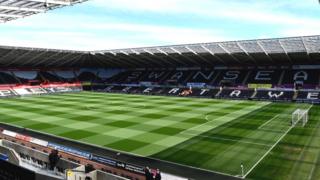 Swansea City FC has now taken control of its Liberty Stadium home from the council.
The local authority built the £27m venue with the Premier League football side and rugby's the Ospreys paying a nominal rent to play there since 2005.
However, after an agreement before Christmas, operational control has been handed over.
It will allow more commercial opportunities and expanding the 21,000 capacity to be explored.
The move will also mean the local authority gets an annual income from the ground for the first time and a share of any money from stadium naming rights.
The arrangement will also see 3G football pitches built in communities around Swansea.
The handover took place on Friday, with a long-term lease allowing the Ospreys to continue playing at the venue.
"This is a deal that benefits both the Swans and Ospreys by providing them with the freedom to commercial the stadium," said council leader Rob Stewart.
"And the council tax payers who will not only receive an income, but also additional money from any stadium naming rights and shirt sponsor deals will help deliver new 3G pitches across the authority."
Swans majority shareholders Steve Kaplan and Jason Levien said the agreement puts the club "firmly in control of its own destiny".