Tidal lagoon 'has offered government new deal on price'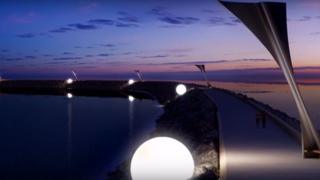 The falling cost of wind power is "good news" for the proposed Swansea Bay Tidal Lagoon, according to the chair of a parliamentary group on marine energy.
Critics of the £1.3bn project argue it is too expensive and have urged ministers to focus on more established technologies like wind and solar.
The price to be paid for power from the scheme is the key sticking point.
Last year the price offered by the UK Government for power from new offshore wind developments hit an all time low.
Richard Graham MP said it proved that government support for innovative schemes could "bring the costs down dramatically over time".
He claimed it set a "strong precedent" that could be replicated by tidal lagoons if ministers decide to plough ahead with the Swansea Bay scheme.
"The reward for the UK, after years of subsidies for offshore wind at more than double today's prices, it to have created both a viable source of energy and a new industry in which we're now a world leader," Mr Graham wrote in a blog.
"If we take the same approach to tidal lagoons we can help create another new industry, bringing costs down for consumers in due course and generating a wider economic benefit as well."
First of many?
Developers Tidal Lagoon Power hope Swansea will be the the first in a fleet of larger, more powerful schemes along the western coast of the UK - including at Cardiff, Newport and Colwyn Bay.
An independent review, commissioned by the UK Government, recommended building the first lagoon as a test of the technology, before allowing other developers to bid to construct further schemes as part of a competitive tendering process.
Ministers are yet to respond to review's findings, more than a year since it was published.
TLP have asked for an unusual 90-year contract with the government, starting at a price of £123 per megawatt hour of electricity produced in the first year and reducing over time.
By comparison, the latest price offered to new offshore wind developments was £57.50 per megawatt hour.
In his blog Mr Graham, who represents the city of Gloucester where TLP are based, revealed that the company had now revised their offer and were proposing the same terms as those accepted by the government for the Hinkley Point C nuclear power station in Somerset.
'Huge potential'
It comes after the Welsh Government announced in January it had offered a "substantial investment" to try and get the long awaited project over the line.
A spokesman for TLP told BBC Wales a new agreement on price was "one of the possible outcomes of current talks between the UK and Welsh Governments."
Hinkley Point C's developers, EDF Energy, were granted a 35 year contract with a fixed price of £92.50 per megawatt hour of electricity produced.
Mr Graham said the Swansea Bay lagoon was "no longer more expensive in the short term than nuclear, with huge potential for future efficiencies."
He also suggested that Prime Minister Theresa May had "always felt there was something in this for our nation", and urged the Treasury and Business departments to "seize the moment".
Energy Minister Claire Perry told the Environmental Audit Committee of MPs that "a series of extremely important conversations" were happening between the UK and Welsh Governments at the moment about the future of the Swansea Bay scheme.