Swansea's The College to boost overseas student intake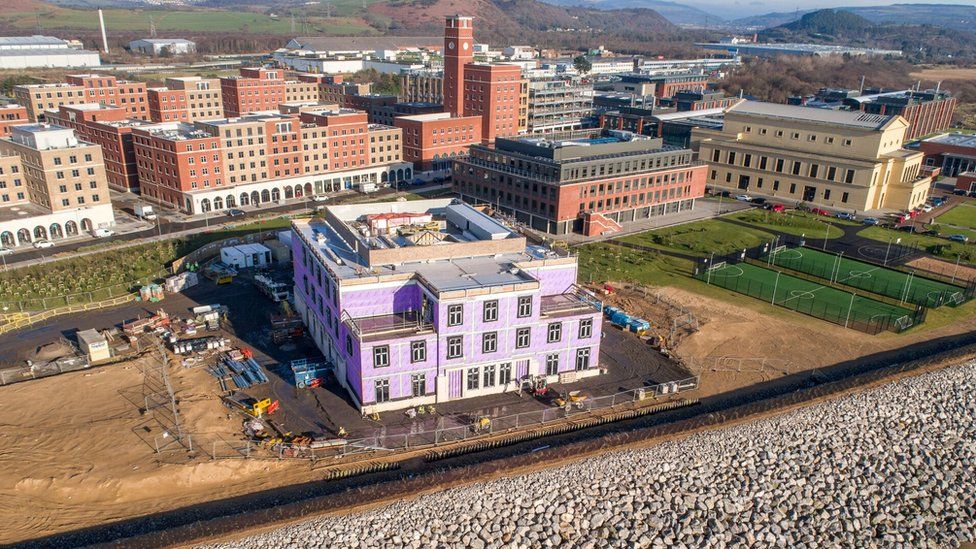 A new £45m college for international students will strengthen Swansea University's global standing in the post-Brexit world, it has been claimed.
The College will target students looking to take a foundation year, with a view to doing a full degree.
An academic building and a 411-bedroom student residence are already being built.
Its pro vice chancellor said it proved it was looking beyond Europe.
The college is a collaboration between the university and Australian international education provider Navitas, which has partnered Swansea in global recruitment for the past decade.
Prof Iwan Davies said: "Higher education is worth £22.6bn a year to the British economy, and is the UK's sixth most valuable service sector, at a time when the service industry is most under threat from Brexit.
"Swansea is looking beyond Britain and Europe, to Australia and Asia, and ready to embrace whatever change is on the way."
Prof Davies said targeting students for a foundation year ahead of a full degree would open up international study to those who might previously have been put off.
The College will offer intensive English courses and smaller class sizes to help students reach the standard required ahead of enrolling for a degree.
The venture builds on the work of the International College Wales Swansea, (ICWS), which already sees 95% of foundation students go on to degrees.
Dr Augustine Egwebe came from Nigeria to study electrical engineering at ICWS in 2009 and now lectures at the College of Engineering.
He said: "I remember my first day. It was freezing and I thought 'man, what am I doing here?', but everyone was so lovely and I was shown all around the city and the Gower, and really made to feel welcome."
It is hoped the first students could start in September.