BBC explains 'Nigel Owens is a gay' subtitling error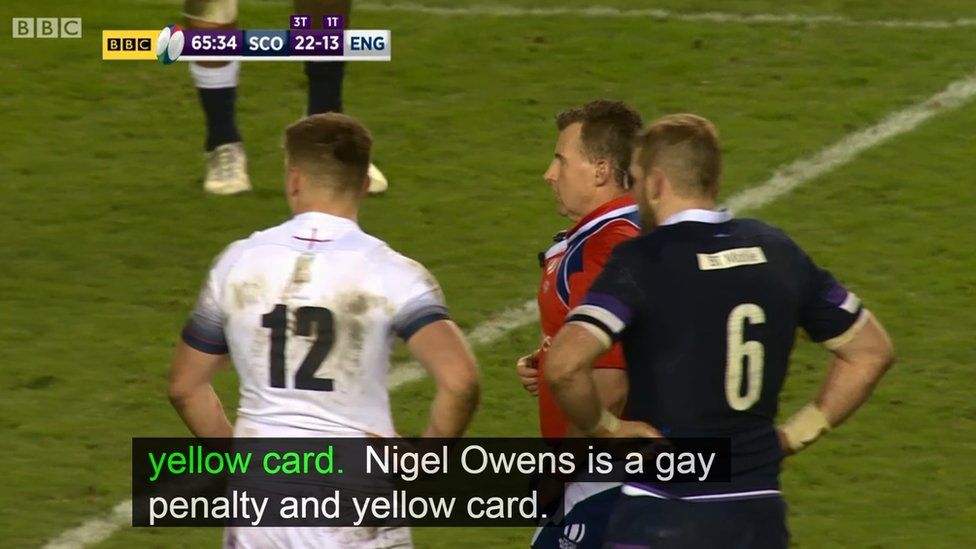 The BBC has explained why the sentence "Nigel Owens is a gay" was shown on its subtitling service during coverage of the Scotland v England rugby game.
Although commentator Andrew Cotter had said, "Nigel Owens is saying", voice recognition software mistakenly produced the "gay" reference.
BBC Sport quickly corrected the error.
"Our live subtitling service produces accuracy levels in excess of 98%," BBC Sport said in a statement.
"But, as with all broadcasters, there are instances - particularly during live broadcasts - when mistakes happen.
"On this occasion the voice recognition subtitling software made an error which was spotted and corrected immediately."
I must say I had a giggle when I saw this. I thought bloody hell this voice recognition is good. Shame it wasn't about 25yrs ago it would have helped me find out who I truly was sooner then. Mistakes happen so no worries at all on my behalf BBC it actually made me smile. https://t.co/WdawxHNGY5

— Nigel Owens MBE (@Nigelrefowens) February 27, 2018
During the BBC One and online coverage of the Calcutta Cup match at Murrayfield, which had an estimated 5.5m TV million viewers, the BBC did correct the caption immediately to read: "Nigel Owens is saying penalty and yellow card".
Owens, from Mynyddcerrig in Carmarthenshire, is the most-capped international rugby referee and has officiated at three Rugby World Cups, including the 2015 final between New Zealand and Australia. He became the first openly gay man to referee at the highest level.