No charges in two-year Port Talbot v Rhyl match-fixing probe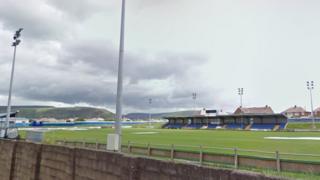 Police are still investigating 11 people over alleged match-fixing in a Welsh Premier League match which was played two years ago.
No-one has been charged since betting patterns on the Port Talbot Town v Rhyl match sparked a police probe.
Port Talbot lost 5-0 to Rhyl, who had not won in 17 games, on 9 April 2016.
South Wales Police said a file had been submitted to the Crown Prosecution Service, but the CPS said it had not received a full file of evidence.
This means prosecutors are not in a position where any charges could be considered.
South Wales Police's economic crime unit started the investigation after receiving information from the Football Association of Wales (FAW) and the Gambling Commission.
Eight men and three women - including players, staff and associates - were arrested on suspicion of conspiracy to defraud.
At the time, Rhyl had not won a league match since they beat Airbus Broughton UK 1-0 on 23 October 2015.
Port Talbot were one place and 12 points ahead of Rhyl and had beaten them 4-0 less than two weeks before the match in question.
The FAW said it would be inappropriate to comment while the police investigation was ongoing.
The Gambling Commission would not comment on the matter.
Those arrested in August 2016 were:
A 20-year-old man from Swansea
A 21-year-old man from Swansea
A 23-year-old man from Port Talbot
A 24-year-old man from Swansea
A 27-year-old man from Swansea
A 28-year-old woman from Port Talbot
A 28-year-old man from Neath
A 33-year-old woman from Swansea
A 35-year-old man from Swansea
A 43-year-old woman from Swansea
A 48-year-old man from Swansea