Beatrix Potter's Tenby holiday home goes on sale for £1.8m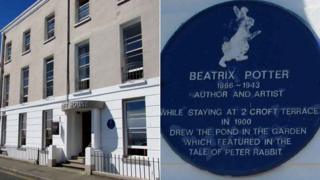 A holiday home where Beatrix Potter drew parts of The Tale of Peter Rabbit is up for sale.
The renowned author wrote a letter from the seaside home in Tenby, Pembrokeshire, in 1900 telling tales of rabbits living in the cliffs.
She was also inspired by the garden of the Grade II-listed Georgian property and painted a lily pond that was used in the book.
Croft House has been put on the market for £1.8m.
The building was once split into two houses - with Potter staying at number two.
Andrew Lowe, whose family have owned the property since 1964, said that in 1900 Ms Potter wrote four 'Tenby letters' to the children of governess Annie Moore.
"She also did two paintings of the garden of Croft House, no longer part of the property," he continued.
"The lily pond illustration that appears in The Tale of Peter Rabbit was taken from one of these paintings."
Museum discovery
A copy of one of the four letters is on display in the hallway of the property.
Mr Lowe said: "The Beatrix Potter link was discovered in the 1980s, when a family friend went to a museum in Gloucester where they had copies of the 'Tenby letters' of Beatrix Potter on display.
"She noticed the address was what is now the northern half of Croft House."
Potter died of pneumonia and heart disease on December 22, 1943, aged 77, and she left almost all of her property to the National Trust.