Work begins to convert Buckley's Brewery in Llanelli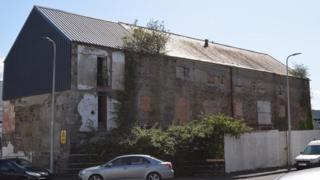 Work has started on converting the old Buckley's Brewery in Llanelli, which closed 20 years ago.
The derelict Grade II-listed malt house and kiln buildings, which date from the 19th Century, will be converted into 21 apartments.
Last year, the brewery was included on a list of the top 10 most endangered Victorian and Edwardian buildings in England and Wales.
The £3.7m development has been helped by £2.3m grant funding.
A walkway and cycle route will also created nearby alongside the River Lliedi.
Carmarthenshire Council helped secure funding from the Welsh Government as part of its regeneration plans for the town.
You may also like:
Planning permission was first granted in 2014 but last year the Victorian Society criticised the development's progress, saying "two decades of neglect show in the poor state of the building".
The developers say original cast iron columns and beams will become features within the new apartments, while blocked-up windows will be re-opened.
The origins of brewing at the site date back to the late 18th Century. The Rev James Buckley - who still has a beer named after him - married into the original brewing family and the current buildings date from about the mid-1850s.
But Buckley's was taken over the Brains and production moved to Cardiff in 1998, ending more than 200 years of brewing.
Council leader Emlyn Dole, said: "This iconic building stands tall and proud in the heart of Llanelli, and despite its significant historical past it has been empty for a number of years.
"It's fantastic to see new life being breathed back into the building."