Olchfa Comp teacher 'shone laser at pupil's genitals'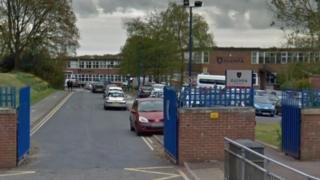 A secondary school teacher shone a laser pen on a pupil's genitals - and hit another across the face, it has been claimed.
IT teacher Martin Williams, 29, is accused of inappropriately touching four pupils and also submitting inaccurate coursework marks.
Olchfa Comprehensive in Swansea suspended him following the claims.
He faces five allegations at the Education Workforce Council fitness-to-practise hearing in Cardiff.
The panel was told that the accusations emerged in 2016 following discussions in another class at the school.
Fellow teacher Leah Slowinsky said: "There was a reference to hugging or being close to them.
"Three girls later said Williams touching them made them feel uncomfortable.
It was claimed that Mr Williams told the pupils: "I love you."
The panel was told by assistant head teacher Julian Kennedy that there had been an incident a year before, when one girl had nicknamed Mr Williams "the creepy IT teacher".
The pupil had complained he ran his fingers through her hair during a lesson.
The assistant head said Mr Williams had admitted this - but said he was unaware this was making pupils feel uncomfortable.
"He was remorseful about his conduct and wrote a letter to the head teacher about his conduct," said Mr Kennedy.
'Tickling and touching'
But another pupil complained that the teacher had "hit him so hard across the face it left a mark", according to Mr Kennedy.
"He said he had shone a laser pen on his genitals," the assistant head teacher added.
"Another pupil said Williams had physical contact with pupils, tickling and touching them.
"Pupils alleged he had grabbed them 'by the boob', to use the terminology used in their statements.
"Another said he used the laser pen."
The remarks led to an internal investigation and Mr Williams was suspended from his post.
Sexual motive denied
After being suspended from the 1,700 pupil school, concerns were raised over marks issued for coursework for his year 11, 12 and 13 students.
The hearing was told grades Mr Williams gave to pupils were "inaccurate", with the teacher telling his line manager the grades would have been achieved had he not been suspended two weeks before the end of term.
The teacher, from Llanelli, Carmarthenshire, has admitted hitting a boy pupil, and poking him with a ruler, and also uploading coursework marks that were not accurate.
He also accepted telling pupils "I love you" and touching the three girl pupils on the waist.
But he has denied touching pupils' chests or tickling them, or that his actions were sexually motivated.
The hearing is continuing.