Milford Haven safety officer's hotel balcony fall appeal fails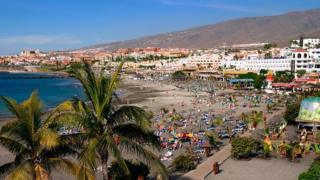 A health and safety officer who fractured his skull trying to jump between two hotel balconies has failed in his bid to sue a tour operator.
Philip Clay, from Milford Haven, Pembrokeshire, fell 20ft (6m) at the four-star Guayarmina Princess hotel, in Tenerife, while on holiday in 2011.
He had tried to jump to another balcony after becoming stuck outside his room with his wife and parents.
He failed to sue TUI as London's Appeal Court ruled he took an "obvious risk".
Mr Clay, a fire safety officer at an oil refinery in Milford Haven, was attempting to overturn a decision made in 2017 rejecting his claim of compensation after he claimed the hotel breached health and safety standards.
On the package holiday in July 2011, he and his wife were having a drink with his parents on the balcony of their hotel room when the door locked shut behind them.
As his wife needed the toilet, he attempted to clamber across the 2ft 7in (0.8m) gap between to his own balcony, which was unlocked, stepping onto what he thought was a solid ledge.
However, it was decorative cornice made largely of polystyrene and he fell.
Dismissing his appeal against the 2017 decision, Lords Justice Hamblen and Kitchin ruled there were "no grounds" for challenging the judge's conclusions.
Lord Justice Moylan said that he would have upheld Mr Clay's claim, but was overruled by the other two judges.