Milford Haven martial arts teacher Steven Grant choked boys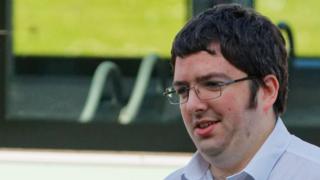 An unqualified martial arts instructor who knocked out two boys by putting them in choke holds has been given a suspended sentence.
Steven Grant, who ran Slicks Martial Arts in Milford Haven, said he had been trying to teach the teenagers a lesson.
The 29-year-old admitted causing actual bodily harm and was given six-months, suspended for two years.
Sentencing him the judge said people like Grant with no qualifications should not be teaching martial arts.
Grant had told the court he heard one of the boys talking about fighting another boy and worried that he might use martial arts techniques.
To show them how dangerous that could be, he said he grabbed them by their necks to cut off the blood supply to their brains, knocking them unconscious.
Grant, whose martial arts club in Charles Street has now closed, also admitted knocking one of them out on two separate occasions.
'Position of power'
Judge Geraint Walters said a martial arts enthusiast should not be able to set himself up as a teacher without passing any examinations or gaining any qualifications.
He said: "Someone needs to look at how classes like this operate so the risk of this sort of thing happening is managed in a proper way.
"If an instructor does not qualify as an instructor he will only be as good as he was as a pupil."
He told Grant: "It is unusual for a teacher to knock his pupils unconscious.
"You were in a position of power and the parents of those boys put a great deal of trust in you."
Grant, of St Lawrence Avenue, Milford Haven, was also ordered to carry out 150 hours of unpaid community work and complete 30 days of a rehabilitation activity.