Michael Maguire death: Firing range officer 'messed up'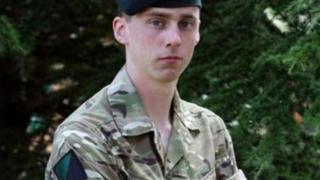 An army captain running a shooting range exercise told a colleague he had "messed up" after a solder was killed, a military court has heard.
A court martial has heard Capt Jonathan Price, 32, set up targets outside safe shooting zones, putting Ranger Michael Maguire in the line of fire.
A stray bullet hit Ranger Maguire during the exercise in Castlemartin, Pembrokeshire in May 2012.
Capt Price denies manslaughter by negligence.
Two other men, Lt Col Richard Bell and Warrant Officer Stuart Pankhurst, also deny negligently performing a duty in relation to the training exercise.
Ranger Maguire, 21, from County Cork in the Republic of Ireland, died when he was hit in the forehead by a bullet as the 1st Battalion, Royal Irish Regiment, were preparing to be deployed to Kenya.
The prosecution at the court martial in Bulford, Wiltshire, has alleged Capt Price failed to attend a recce of the range when preparing a Range Action Safety Plan (Rasp), that he placed targets too close together.
The hearing was told on Thursday that a range officer at Castlemartin had reviewed the scene following the fatal shooting the death with Capt Price.
Mr Philipps-Harries, a retired Army warrant officer and now a Ministry of Defence employee, explained how they examined how the targets were laid out - and were out of position.
"I said, you can see how out of arc your targets are," said Mr Philipps-Harries.
"He said 'I've messed up haven't I? What do you think will happen to me?'
"I said I didn't know."
The court has previously been told that Lt Col Bell, of the Infantry Training Battalion, was responsible for overseeing Capt Price and "did not review the exercise" before it was carried out.
It is also alleged that WO Pankhurst, who was supervising the exercise involving Ranger Maguire, failed to "express any caution or concern" despite having attended the recce and having knowledge of the extent of the adjacent shooting
All three men deny the charges against them, and the trial continues.